KVD Beauty's Viral New Foundation Balm: Our Review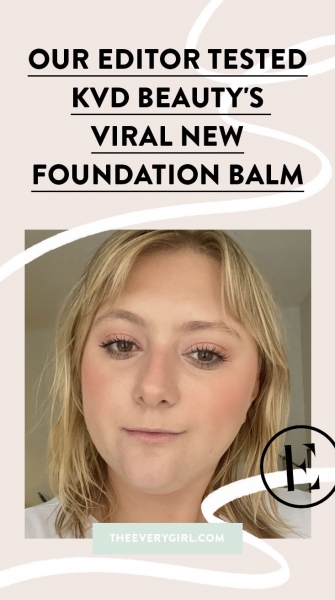 The Everygirl's product selections are curated by the editorial team. If you buy something through our links, we may earn an affiliate commission, at no cost to you. We only recommend products we genuinely love.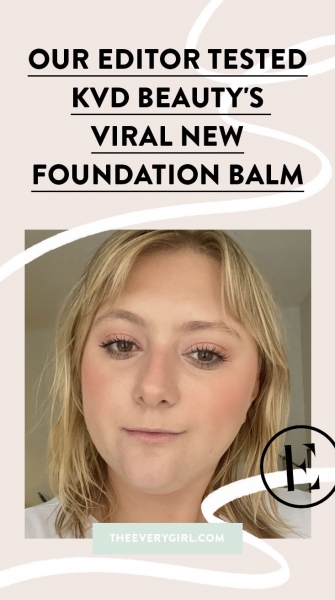 There aren't many new releases that stop me in my tracks. I follow all the new-release Instagram accounts and keep my eyes peeled for new products that might come into my inbox, but most things get an "OK interesting" and that's about it. Like anyone with a Sephora Beauty Insider card and an Instagram account, I see a lot of new beauty products, and after a while, they all kind of lose their luster. Only something truly innovative and unique catches my eye. Some examples include: Fenty's cream blush launch last spring (these kept me excited through the excruciating first months of quarantine almost exclusively), LYS Beauty at Sephora, Bread Beauty Supply's gorgeous and Instagrammable hair oil, and the Pat McGrath Mothership V eyeshadow palette. These launches were exciting and different from the products we see flood our pages every day, and they made me set up alerts to be notified on launch day (I bought those Fenty blushes at approximately 12:26 a.m.) because I was that excited.
The last product to do that for me? KVD Beauty's Good Apple Skin-Perfecting Hydrating Foundation Balm.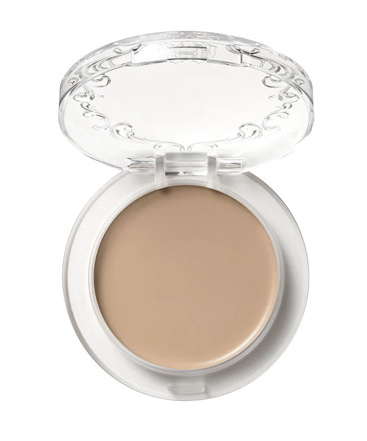 KVD Beauty
Good Apple Skin-Perfecting Hydrating Foundation Balm
Shop it now
About the Foundation: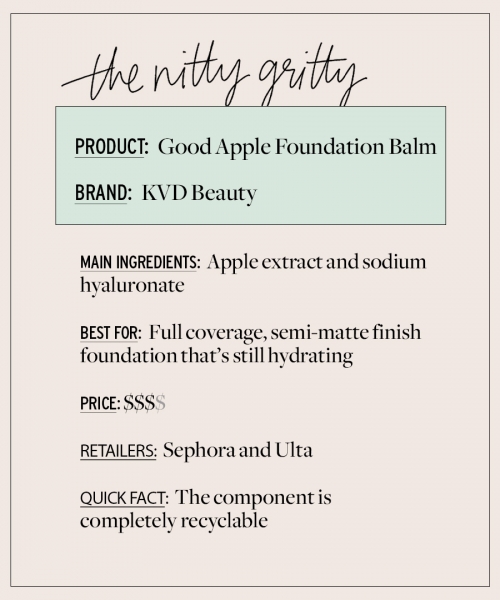 This cream foundation claims to be a buildable, full-coverage that's hydrating, lightweight, long-wearing with a soft-matte finish. KVD, a brand that prioritizes veganism and sustainability, also created this in fully-recyclable packaging. This product has gone totally viral on Instagram, TikTok, and YouTube, causing a majority of the shades to remain out of stock on Sephora's site.
A foundation "balm" sounds a little weird, but it's essentially a cream foundation. We all probably used some variation of this as teenagers: Maybelline Dream Matte Mousse (what on Earth were they thinking with that mess), Covergirl had one, and MAC's Studio Fix Tech Cream-To-Powder foundation (which just got a reformulation!). The cream foundations of yore were… atrocious to put it lightly. They were known for being cakey, dry, heavy—you know, all the words you don't want to read in a foundation review. But I believed in KVD Beauty's ability to change my mind on cream foundation.
View this post on Instagram
Oh, and if you needed another reason to read more, this is, in fact, the foundation Lil Nas X is wearing in the iconic Montero music video. You're welcome.
Application
I applied this foundation two ways: with a brush and a sponge, and I definitely preferred the brush. I dipped the brush right into the product and applied it that way… which isn't necessarily hygienic, so I'll be making sure I wash my brushes a lot more if I'm using this. But I didn't need to use a lot of product. I only dipped in twice for my entire face, which is pretty solid. If you use too much, the foundation will definitely look cakey and gloopy on your skin, so make sure to go in with one thin, even layer.
View this post on Instagram
Shade Range
This foundation comes in 40 shades ranging from very light to deep dark. The range seems to have equal representation of light, medium, tan, and dark shades, but I can't comment on how well the undertones are since I only tried my own shade. I have a light-medium skin tone with warm olive undertones and wear a Fenty shade 235, and I purchased this in Medium 027, which claims to be for light-medium skin with neutral undertones, and it's definitely too neutral/pinky for my skin. It's workable with bronzer, but if I repurchased, I'd get a warmer shade.
About My Skin
I have combo skin that currently sits right in the middle: my cheeks are dry and my T-zone gets oily throughout the day. I'm also very prone to dehydration, so products that suck the moisture out of my skin make my skin both look and feel not the best. With foundation, I like to cover any active acne, acne scars (which I have quite a bit of on my chin and jawline), and overall uneven skin tone. I'm all over the place when it comes to preferences: I like radiant, practically-oily foundations, matte foundations, and everything in-between. I really just like a product that makes me feel confident in my skin.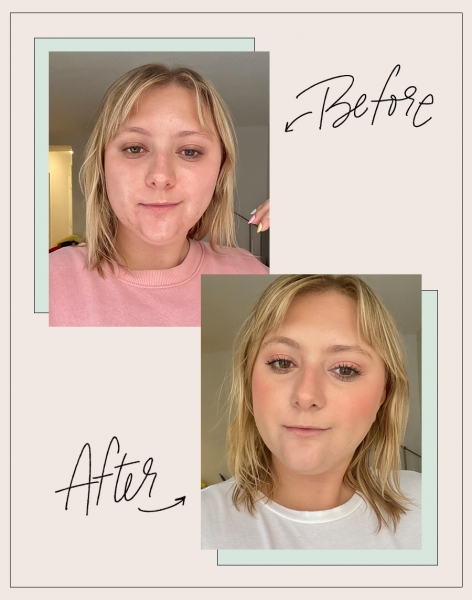 Packaging: 10/10
This is gorgeous. I cannot wait to set this out on my vanity at all times. Plus, I love that it's recyclable, so I feel good even once I've used it up (and based on the size, which I'll discuss later, I probably will).
Coverage: 9/10
With a brush, this product is just under the threshold of full-coverage. I don't want full coverage very often, but when I do, I want a product that covers without making me look like I'm wearing a mask, and this is that.
When I used a sponge, I got a more medium coverage, but the sponge made it look more smear-y and patchy all over my skin, so I'll skip the medium coverage for now. To lighten up the coverage with a brush a bit, I tried using a less-dense, fluffier brush, and that did the trick.
Longevity: 5/10
This is where the product really falters. When I'm not wearing a mask, this lasts a full workday. But this transfers like a mother, so when I wear a mask, all of my acne scars show through (as seen above). The first time I applied this foundation, I brushed my teeth afterward and removed the ever-common toothpaste dribbles from my chin, all to discover I removed the foundation along with it. And not just a little transfer like you'd get on your mask—this removed the foundation so much that you could visibly see the line where the foundation was removed and where it remained. It was pretty gross, TBH.
The next time I wore it, I tried to replicate this scenario, but I waited quite a bit longer between foundation application and removing toothpaste from my chin, and it didn't remove the foundation in the same way. It definitely still transferred onto the towel, but as far as I could tell, my foundation was still in-tact on my face. This is a foundation I really have to wear a primer and powder with, and if I'm wearing a mask, it's just going to come off.
At the end of the day, I notice my T-zone is a little shiny when I don't set it, but nothing I can't fix with a little powder. I also don't mind a bit of shine at the end of the day; I think it makes my foundation look really natural because that's naturally what my skin would look like. Contrarily, my cheeks don't look dehydrated or dry at all, which is a big plus for this product. Anything with a matte finish tends to do that on me, so I love how hydrating this is on my skin.
Price: 4/10
It's not the most expensive foundation I've ever used, but it's a pretty steep price for how much product you get. A typical liquid foundation contains 1 oz. of product. This balm is a mere 0.35 oz. Yikes. With the size coupled with an almost-$40 price tag, it's definitely going to be out of budget for many.
The Verdict: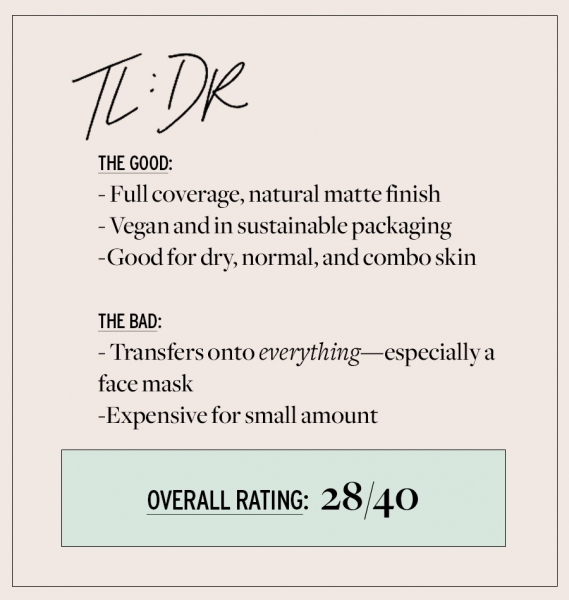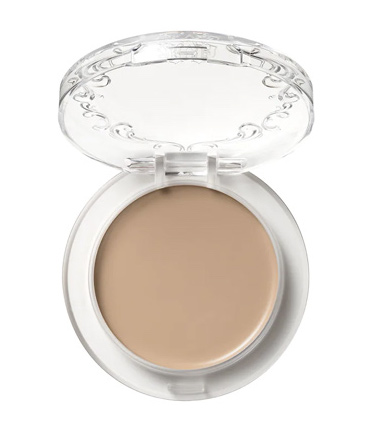 KVD Beauty
Good Apple Skin-Perfecting Hydrating Foundation Balm
Shop it now
Full coverage foundation isn't necessarily my preference, especially with summer coming up, but this is a product I will enjoy keeping in my arsenal for the days I do want to a really flawless face, especially in photos (I mean, did you see that before and after!?). However, I also am enjoying using this to spot conceal. I don't need full coverage all over my face; just in the areas where I have breakouts and acne scarring, which are my chin and jawline area. I tried this to just cover up those areas and blend it into my skincare, and it looked amazing. But because of how much it transfers into my mask, I probably won't buy this again unless I somehow get rid of every single dark acne scar on my face (unlikely) or we stop wearing masks (likely, but only eventually). When I want full coverage, it's typically because I'm not confident with my skin or I'm going somewhere very special, both of which often require me to wear a mask at some point in the day… and this foundation just transfers a little too much.
If you're looking for a matte finish that stays put all day long, try: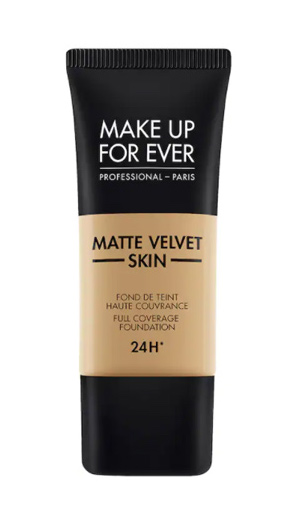 Make Up For Ever
Matte Velvet Skin Full Coverage Foundation
I got a sample of this foundation last fall, and it blew. me. away. I wore it underneath my mask for around six hours, and it never budged. It's a velvet-y matte finish that didn't exacerbate dry patches and makes my skin look truly flawless. This is in my top #5 foundations of all time.
Shop it now
If you're looking for more affordable full coverage, try: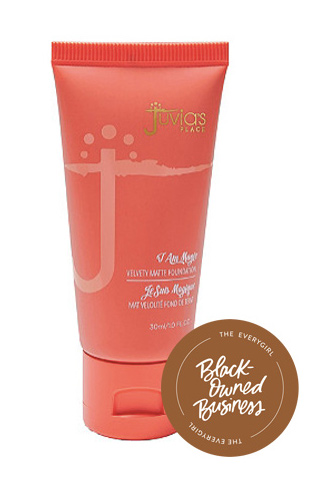 Juvia's Place
I Am Magic Foundation
If you want full coverage for the price of a fancy salad lunch, this is it. Plus, it has a natural finish that stays put for hours.
Shop it now
If you're looking for an easy on-the-go foundation, try: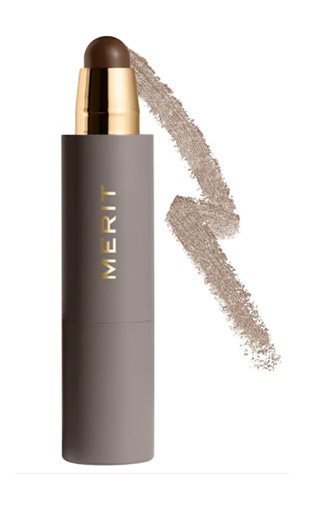 merit
The Minimalist Perfecting Complexion Foundation and Concealer Stick
I've raved about this product now at length, but it's truly the best on-the-go foundation/concealer products I've ever tried. It blends seamlessly into whatever skincare you have underneath it, making you look natural and flawless in an instant.
Shop it now